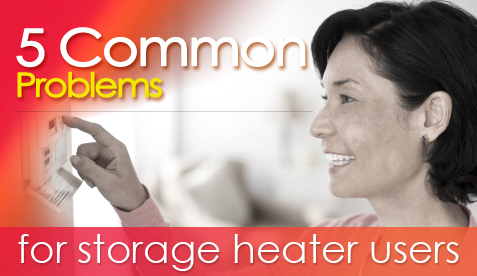 Should I install gas central heating, electric heaters or storage heaters?
How do I choose a storage heater?
Are storage heaters high maintenance and hard to control?
How do I operate them in a low cost way?
Do storage heaters contain asbestos?
Why do I have excessive electricity consumption using storage heaters?

What are Electric Storage Heaters?
Commonly called night storage heaters, heat retaining clay bricks inside the storage heater are charged over night to store heat and release heat during the day.
Convection and radiation give out a comfortable balance of heat in the room. Storage heaters use economy 7 electricity at night. Economy 7 electric tariff is designed to save money on heating bills.
Storage heaters offer comfortable economical warmth throughout the day by taking advantage of low tariff overnight electricity.
Popular brands in UK include Dimplex, Creda, Elnur, Unidare, Stiebel Eltron and Newlec. Older brands include Heatstore, Berry Magicoal, Robinson Willey, Storad and Sunhouse.
7 Benefits of Night Storage Heaters
Storage heaters used to be seen as an expensive alternative to provide heat compared to other fuels. Not today - with energy costs soaring, storage heaters now provide a competitive source of controllable heat energy when compared to gas and oil alternatives.
Electric storage heaters are more flexible than central heating.
There is no flue modernisation, expensive pipe work or plumbing necessary.
They can be installed anywhere using a simple wall bracket and have no maintenance costs.
Rooms can be equipped with modern storage heaters without major installation costs.
No risks such as Carbon Monoxide poisoning. The lifetime cost of an electric heat system will be lower than heating using other fuels.
Electric heating is energy efficient and more eco friendly than central heating.
Storage heaters are ideal for homes that are occupied during the day due to slow heat release throughout the day.
The early electric storage heaters were bulky and space consuming; and they emitted heat at a set rate, so the user had no control over the output.
The heat stored during the night could be adjusted - but this involved making an estimate of the next day's heating requirements, and a sudden change of weather could leave the user with too much or too little heat.
Improvements in technology and design have enhanced their appeal considerably.
Present day electric storage heaters are slimmer - typically 167mm (6.2in) deep - and may either be wall-mounted or freestanding. They retain their heat more efficiently and enable greater control of heat output.
Thermostatically controlled adjustable dampers and fans allow the units to be run at low levels in unoccupied rooms and then at a higher level when needed, perhaps late in the day.
Some units retain a residue of stored heat, which reduces overnight charging and cuts costs further. Others monitor room temperatures at night, assess the next day's heating needs (a cold night is normally followed by a cold day) and adjust the heat charge accordingly.
Manual and Automatic Storage Heaters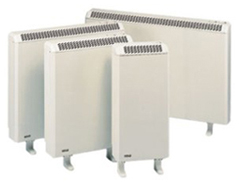 Combination Convector Storage Heaters
Combination storage heaters have a convector heater built into the unit in addition to a standard storage heater system. It means the storage heater will be used to provide the bulk of the heat with instant top using the convector heater.
The convector means that you will also have an alternative heat source for occasions when it is necessary to provide all the heat. This storage heater is ideal for a living room that has higher occupancy.
Fan Assisted Storage Heaters




Fan assisted storage heaters are sophisticated at using off peak electricity. Instead of automatically releasing the heat by convection the next day, a fan assisted storage heater incorporates a silent fan, which takes air through the heater and discharges it through the vent at the base of the heater at a time that suits you.
The heat is stored inside a highly thermal insulated unit. The insulation on fan assisted storage heaters has more than double the thickness of standard storage heaters.
Fan assisted storage heaters are the most efficient at storing heat. Fan storage heaters are ideal for home and office use. Fan assisted storage heaters work from off peak electricity tariff supply.
The fan is quiet and requires a 24 hour supply. The fan can be controlled with a separate thermostat control, which is supplied with the storage heater.
7 hour electricity charge
The 7 hour electricity charge value is the kw rating times the 7 hour charge period. A 7 hour electricity charge value would be 17.85 kw for a 2.55 KW storage heater. Storage heater model numbers use a rounded up kw figure with the SH number.
Storage heater size
Storage heater dimensions should be considered, space restrictions could mean that 2 smaller storage heaters is better than one larger storage heater.
Storage heaters are deeper than conventional radiators, be careful when considering the depth of the storage heater. Two cms too deep may make all the difference when fitting the unit correctly in the room.
Storage heater outlet regulator
Make sure that your storage heater has an outlet regulator. It provides better discharge heat than a storage heater without.
Parts and insulation
An electric storage heater has an insulated box with heat retaining bricks inside connected with electric elements. The bricks heat up when the electricity is turned on. This will charge the heater.
Charging controls enable you to fill the heater with the desired amount of heat. Heating elements switch off when the heater is full.
Insulation surrounding the bricks keeps heat inside for around 14 hours.
A flap at the top of the heater enables heat to flow out and heat the room quicker.
Disadvantages of Manual Heaters
The main disadvantage is lack of heat control.
Gas is considered cheaper than electricity.
If excess heat has been stored, heat will be discharged into the room even if it is not needed.
If there is unexpected cold weather and insufficient heat has been stored, full price 'on peak' electricity will be needed to generate extra heat.
Most heaters are heavy due to the bricks inside used to store heat.
Tips A well educated storage heater user should receive 10 hours of heat, make full use of it as they are cheaper to use than panel heaters or gas fires. If your room is cold at night... a high output setting control early in day may leave too little heat stored in the heater for night. Factors to consider when choosing a storage heater - KW, room size, frequency of usage and responsiveness.
@ 2009 Storageheaters.com